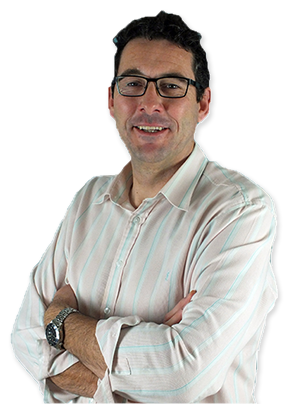 Practising as a physiotherapist since I qualified in 1996, I was following the same path as everyone else. Over that time I had become stale and disillusioned. I felt that, although I was doing what I'd been taught, my treatments were ineffective and the results and outcomes were poor.
Then it all changed. Nine years ago, whilst running my own private practice, I was interviewing for a new member of staff. An Australian physiotherapist came for an interview and I asked him something like "How would you deal with a middle-aged office worker with recurrent low back pain?"
He answered the question in some detail, challenging all my clinical assumptions whilst backing it up with research evidence.
His answer hit me like a ton of bricks. I suddenly saw an alternative way of working that made sense of all my frustrations of being a physiotherapist. I offered him a position on the spot.
I began to see dramatically improved results. Our new physio couldn't build up a list of regular customers! His patients were getting better so quickly they didn't need more than one or two sessions. I felt really embarrassed about the treatment I had been "selling" up to then.
At a stroke all the ineffective, dependency-creating treatments were out:
Massage
Manipulation
Core stability
Taping
Ultrasound
Insoles and orthotics
These are all short-term treatments that help create a fear of pain and a lack of confidence. Now they could be replaced by an empowering, research-based and patient-focussed method that dramatically reduced the need for treatment. And yet it also provided long-lasting improvement and lower costs.
Since that epiphany I have focussed on developing skills that benefit patients and dropped all the unnecessary, unhelpful and costly treatments. The new approach, cognitive functional therapy (CFT), shows great promise in helping people who suffer from musculoskeletal pain and disability.
Boring Biography
B.Sc. Physiotherapy 1996 at the University of Birmingham
Worked in the NHS until 2001
Worked in private practice from 2001 to present
Worked with high-level sports teams:
European PGA Golf tour over five years
Exeter Chiefs RFC over five years.
Played county cricket with Worcestershire and Somerset County Cricket Clubs.